Kia Utzon-Frank
Two unique workshops at Blue-Ginger, Cradley, 23 June, 2018
Stone paper mobiles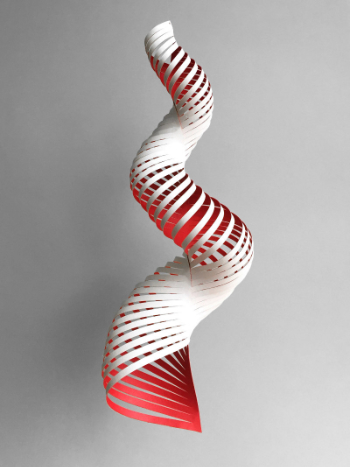 Using waterproof and tear-resistant stone paper, we will fold stone sculptures - out of paper made of 80% stone - to make mesmerising mobiles. Using a series of simple cuts, you'll create unforeseeable shapes by bending and twisting the cut, flat sheets. The magic is in the personal exploration, as it is absolutely impossible to foresee what shapes you will create!
11am-1pm, Saturday, 23 June.
£35. All material and tools provided.
Book now
Pop-up greetings cards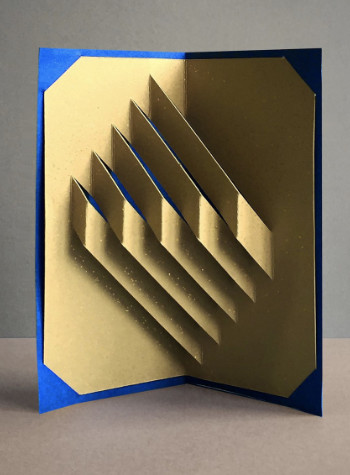 In this greeting card workshop we will explore three-dimensional visual effects in the form of pop up cards - an intriguing advancement of the more mundane greetings. Using simple japanese kirigami (structured cuts and folds) participants will create personalised greetings with a contemporary twist.
Templates will be available, but you will also learn to design your own.
2-4pm, Saturday, 23 June.
£35. All material and tools provided.
Book now
No previous experience necessary, but please note that due to the use of extremely sharp knives, these courses is not suitable for under-18s.
The workshops are adjusted to suit different difficulty levels and skills so every participant will be met (and challenged) at their level and leave with their own handmade work - even if you have 10 thumbs. They are an introduction to a different way of approaching "the flat paper" by exploring the transformation of shape and is rewarding and inspiring for both for beginners with no background in design and professional designers.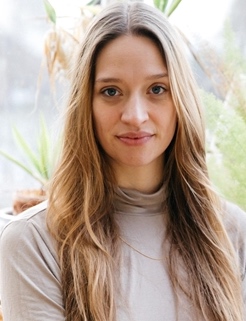 Kia Utzon-Frank
'I'm a Danish goldsmith turned designer turned inventor. I've been living in East London for over six years, after moving here to study at the Royal College of Art. I'm the founder of the multidisciplinary design brand KUFstudios, where I'm coming up with new projects by experimenting with materials, transformation, light, and everything else that catches my interest.'
Featured in The Telegraph, London Evening Standard, Wallpaper magazine, Radio 4's Woman's Hour and Channel 4's Kirstie's Handmade Christmas.
Previously exhibited at the Saatchi Gallery, London.
Blue-ginger location
blue-ginger is situated at the foot of the Malvern Hills near Cradley, WR13 5NW.
It is on the A4103 between Hereford and Worcester near the Red Lion Pub.
Lunches, tea, coffee and excellent cakes are available in the gallery café.